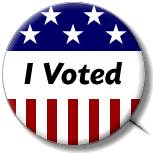 It's been over a week of trying to vote. Every time I've driven by the library, the places is jammed and there's no parking for blocks. Wait times have been two hours. Not my cup of tea. Today I revised my strategy thanks to hubby's suggestion, and arrived at our library about twenty minutes before the polls opened. Pleasantly surprised that there were still a few parking slots IN the library lot, I parked and joined the line of people waiting to vote. A cold front blew through last night, and it was about 48 degrees, which is decidedly brisk weather in central Florida. I should have anticipated that they wouldn't have the lobby open before the official ten AM opening time, but I didn't, so I didn't have particularly warm clothes on.
Things did move efficiently once the doors opened, and I was inside by 10:15 and out by 10:30. Check-in was very high-tech, but the voting was on a paper ballot using a black ball-point pen to fill in the bubbles. Since my hands were still frigid from waiting outside, this was more of a challenge than it might have been. The longest line was waiting to feed the ballot into the counter. But it's done, and I feel good that I've done my part. Now, if this information could somehow be transmitted so that I'd stop getting phone calls and, even better, so there wouldn't be any more political ads on tv, I'd really be in 'good citizen heaven.
Other news: I got my first review for

When Danger Calls

last night. And I've updated my website, so there's now an excerpt from the book. It's the first time I've used an excerpt that doesn't start on Page 1. My editor and I discussed it when I had to give them something for the back cover copy, and she thought something from chapter 3 was a better choice. If you check it out, let me know if it makes sense. Do you like an excerpt that comes from later in the book? I'm so anal about things being in order, I often feel like it's a spoiler if I know what's going to happen later.